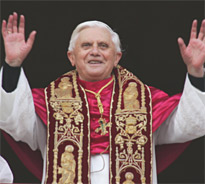 As thousands of people at this moment, I am writing about the news of the day: The election of a new Pope
Joseph Ratzinger
. The election, according to the experts, is a very conservative one, looking at the age of the Pope and his closeness with John Paul II.
My feeling is that he is going to continue with the work left by the last Pope, which means that more and more Catholics are growing in the Third World, while many of them will go down the sink in the Western World.
His last speech before the election set the basis of his period and I cannot expect a big change. My only doubt is that he is too old and secondly, he is severely ill with diabetes, so this could mean a short term but a prize for all his years of hard work.
Can I say something different from any other person or expert? I guess not, but I hope that he thinks about his mission and becomes a good Pope for humanity not only for Catholics.